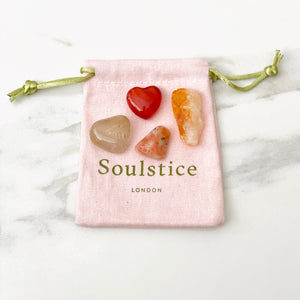 Summer Solstice, the official start to the summer. A time for for your Soul to shine, a time for your energy to flow. Feel the sun radiate through you bringing courage, creativity and positivity. A brilliant time to set those goals, do your vision boards and manifest! 
Carnelian (Orange heart)
Grounding • Creativity
A high energy stone, stimulating the energy of courage and creativity.
Citrine (rough orange)
Cleansing • Energising • Success
A powerful stone of personal will, mental clarity and manifestation. A great stone for aiding success in work and life goals.
Rutilated Quartz (clear with gold lines)
An illuminator for the soul. A crystal known to cleanse and energise the Aura enabling increased awareness of intuition. Helping to release negative energies and letting go of the past.
Sunstone (peach with orange markings)
VITALITY / BALANCE 
A stone to bring you the positivity and energy of the sun. Use to alleviate stress, heighten intuition and promote balance for your soul to shine.