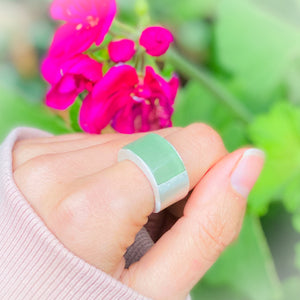 Our gorgeous Stella rings give a little chunky feel to the usual crystal jewellery.
Metal: Satin matt Sterling Silver.
Crystal: Aventurine
Aventurine 
POSITIVITY / HEALING
A positive stone, enhancing creativity and physical wellness. It helps to stabilise and calm emotions.


Taking care of your jewellery: To keep your Soulstice jewellery lasting as long as possible avoid contact with water, perfumes and creams.
All our stones are natural and therefore vary slightly in colour.
Crystals are recommended for their energy vibration from their formation, we do not recommend them as a replacement for necessary medical treatment. Please seek professional medical advice if so needed.