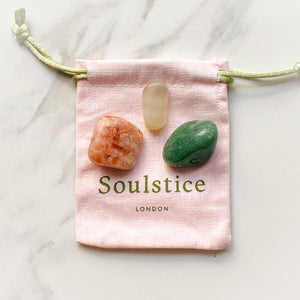 Spring Equinox symbolises new season, new beginnings, growth and a new energy. These 3 crystals have been chosen to help you on your journey to sow the seeds of your life going forward. 


Aventurine
POSITIVITY / HEALING
A positive crystal, enhancing creativity, physical wellness and healing. Used to help stabilise and calm emotions.
Moonstone 
NEW BEGINNINGS / GROWTH
A crystal for inner growth and strength. Used to soothe and bring emotional balance. Promotes moving forward with creativity, inspiration and intuition. 
Sunstone
VITALITY / BALANCE 
A stone to bring you the positivity and energy of the sun. Use to alleviate stress, heighten intuition and promote balance for your soul to shine. 
 
Dimensions: Each crystal tumblestone is approx 2cm
Each pouch comes with description cards for each of the crystals. 


All our stones are natural and therefore vary slightly in colour.
Crystals are recommended for their energy vibration from their formation, we do not recommend them as a replacement for necessary medical treatment. Please seek professional medical advice if so needed.