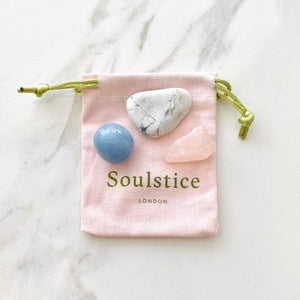 3 Crystals chosen for friendship. A perfect gift to give to from one friend to another. 
Angelite
COMFORT • UNDERSTANDING
A peaceful, calming and healing stone for comfort and understanding. Physical and emotional healing.
Howlite
Calming • Communication
A soothing and calming energy stone, creating an open space for wisdom and insight. Great for by the bed to aid sleep.
Rose Quartz
Love • Peace • Harmony
A beautiful calming stone that radiates love for yourself and others. Increases feelings of compassion for your path and others. 
Dimensions: Each crystal tumblestone is approx 2cm
Each pouch comes with description cards for each of the crystals. 


All our stones are natural and therefore vary slightly in colour.
Crystals are recommended for their energy vibration from their formation, we do not recommend them as a replacement for necessary medical treatment. Please seek professional medical advice if so needed.