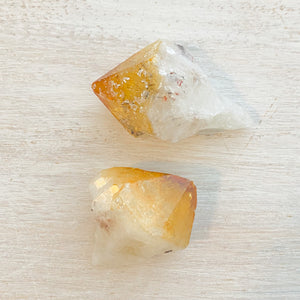 These Rough Citrine pieces are great as part of a little collection, in your pocket or just on your bedside table.
PERSONAL WILL ∙ CONFIDENCE ∙ MENTAL CLARITY 
A powerful stone of personal will, mental clarity and manifestation. This stone stimulates optimism and decisiveness creating a vibration of strength to make tough choices if needed with confidence and clarity. Dispelling emotional heaviness leaving a clearer more confident mind space. Citrine stimulates the Sacral chakra.
Dimensions: Approx 6-7cm
Our stones are natural and therefore may vary slightly in size and colour.
Crystals are recommended for their energy vibration from their formation, we do not recommend them as a replacement for necessary medical treatment. Please seek professional medical advice if so needed.
Amethyst turns into Citrine after experiencing very high temperatures of 300-400 C. Natural citrine is more rare and therefore more expensive. Man-heated citrine has still endured the same heat process but by man. The theory is that it is the heat process that changes the energy in the stone giving it a different healing vibration, for heat-treated citrine to still have an motivating, high energy vibration.