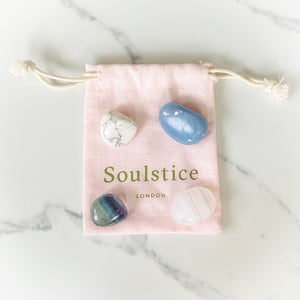 A collection of tumblestones to help bring calm and balance to your life.
Howlite
Calming • Communication
A soothing and calming energy stone, creating an open space for wisdom and insight. Great for by the bed to aid sleep.
Angelite
COMFORT • UNDERSTANDING
A peaceful, calming and healing stone for comfort and understanding. Physical and emotional healing.
Fluorite
Creativity • Balance 
Ground excess energy and unwanted mental influences. Can help to heighten intuitive and spiritual powers.
Onyx
INNER STRENGTH • SUPPORTIVE
A stone for inner strength. A stone to calm excessive energy in the system. Enhances motivation & willpower through dull tasks and projects, great for exams.
Dimensions: 2cm
All our stones are natural and therefore vary slightly in colour.
Crystals are recommended for their energy vibration from their formation, we do not recommend them as a replacement for necessary medical treatment. Please seek professional medical advice if so needed.