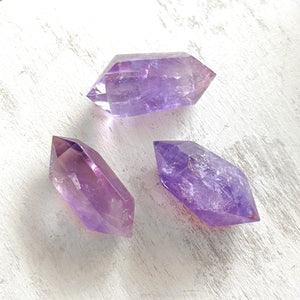 These A-Grade Amethyst double terminated points have beautiful clarity and colour.
AMETHYST
Intuition/Calming/Protective
A divinely protective stone, increasing intuition and connecting us to universal wisdom. It helps to relieve stress, anxieties and sleep difficulties. 



AMETRINE
intuition • calming • Protective / Success • Ambition • Positivity 
Ametrine is when the aamethyst crystal has started the process of turning into Citrine. The crystal has a majority frequency of Amethyst with a small amount of Citrine energy in there too. Citrine is about success, ambition, manifestation, it represents the energy of the sun and bringing that into your life.
Dimensions: Medium 4-5cm, Small 3-3.5cm
All our stones are natural and therefore vary slightly in colour. Crystals are recommended for their energy vibration from their formation, we do not recommend them as a replacement for necessary medical treatment. Please seek professional medical advice if so needed.