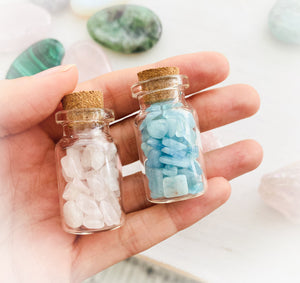 Cute little cork-topped, glass bottles filled with either Rose Quartz or Aquamarine. 
These are perfect little gifts for children and adults alike. 
Rose Quartz (Pink). Aquamarine (Blue).
ROSE QUARTZ 
LOVE・COMPASSION・UNDERSTANDING                                          
One of the most famous and widely used stones on our planet. Rose quartz is famous for stimulating the vibration of love for the self and for others. Using rose quartz will increase feelings of compassion for your path as well as having compassion for those around you. A feminine energy that gently works to open the heart, dissolving blockages to allow more flow up towards the throat for free communication and understanding. Rose quartz stimulates the heart chakra.
AQUAMARINE
COMMUNICATION・SOOTHING・CLARITY                               
A calm and soothing stone for truth and communication. Known to calm anger and flashes of rage. This stone will ignite courage and clarity to express ones inner knowing with grace and eloquence. A stone holding feminine energy. Stimulating the throat and heart chakras.
Crystals are recommended for their energy vibration from their formation, we do not recommend them as a replacement for necessary medical treatment. Please seek professional medical advice if so needed.