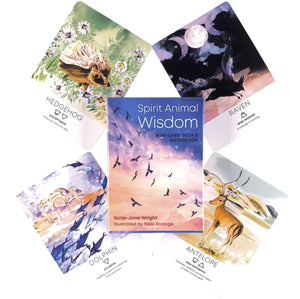 Call in the wisdom of your spirit animal guides with this beautiful deck of oracle cards and a guide to their messages

We each have a host of guides in spirit, which support us through this journey, whichever path we may choose. This wisdom deck is a tool to connect with your animal guides, to welcome them and receive their messages, as intuited by Katie-Jane Wright. As you work with your guides, you may be surprised to notice the many ways they will show up in your life. Just open your heart and let your guides come to you.

Pack Information: 50 Card Deck and Guidebook

Dimension of Cards: Approximately 9 x 12.7 cm (3.5 x 5").