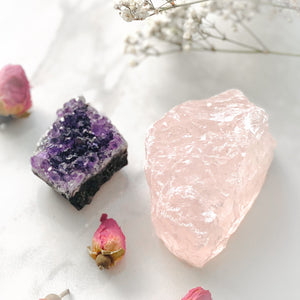 Two beautiful crystals to help calm the mind and release the worries. 
This pouch is for everyone of all ages, but we especially love it for children. The little ones in our lives can often feel overwhelmed with their thoughts and emotions, especially at night when trying to go to sleep. They can place the Amethyst on their bedside table and hold their Rose Quartz to shower them with love before placing it next to the Amethyst for protection.
The Rose Quartz is for love, with a beautiful, soft, positive energy. Hold it in your hand or have it by your bed to keep the good energy with you and dispel the worries. 
Amethyst is a protective stone, helping you to feel grounded and safe. It is used to relieve stresses and anxiety's. Having it on your bedside table while you sleep is a lovely way to have the energy around you.
Crystals: Rose Quartz Rough, Amethyst Cluster.
Dimensions: Rose Quartz 4-5cm, Amethyst 3cm.
All our stones are natural and therefore vary slightly in colour.
Crystals are recommended for their energy vibration from their formation, we do not recommend them as a replacement for necessary medical treatment. Please seek professional medical advice if so needed.