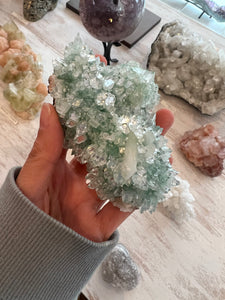 A stunning piece for your home. The turquoise shimmering colour of the Apophyllite shines so exquisitely, almost like a sheet of glitter foil has been placed under the points. 

Metaphysical
Apophyllite is used to alleviate negative thought patterns and encourages relaxation. Linked to astral travel and psychic abilities.
Stilbite has a soft gentle energy, it is often used for calming the brain and alleviating anxious or heavy emotions.
Styling
A piece for a calmer area of the house or space. Either a communal living space that is used for relaxation and winding down. Also a space where energy to whiten the mind for work, study or reading is needed.
Dimensions: W11cm x H4.5cm x D7cm
All our stones are natural and therefore vary slightly in colour. Crystals are recommended for their energy vibration from their formation, we do not recommend them as a replacement for necessary medical treatment. Please seek professional medical advice if so needed.