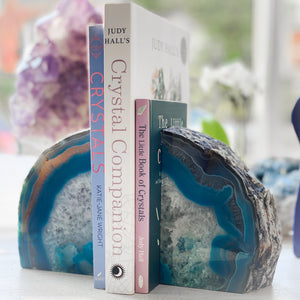 A fabulous way to bring the healing properties of Agate into your home whilst also being a striking object on your bookshelf.
A matching pair of Teal Agate bookends with a smooth, polished side and a rough, natural side.
Agate
GROUNDING ∙ STABILISING ∙ STRENGTHENING                        
This is a stone that comes in many different varieties. Known for its slower and lower intensity of vibration, agate is thought to be a stone on which to build foundations. A stone to work with if patience is needed to see things through and allow growth and steady process. Allow for time when working with an agate for the body to entwine with its frequency and resonate to its specific energy vibration. Agate stimulates all chakras depending on the variety.
Dimensions: approx 12cm H x 16cm W.
Crystal: Agate 
Our stones are natural and therefore may vary slightly in size and colour