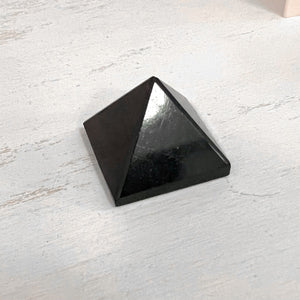 The pyramid shape has been used since early times with the Egyptians viewing them as a sacred, powerful shape. With crystals, the energy is grounded through the solid square base while also radiating out of the apex. The pyramid crystal is perfect for meditation and manifesting intentions.
Shungite 
Grounding • Purifying
This grounding stone is used to cleanse water, reduce EMF and decrease stress levels. Found in the small village of Shunga in Russia.
Dimensions: 3cm
Crystal: Shungite
All our stones are natural and therefore vary slightly in colour. Crystals are recommended for their energy vibration from their formation, we do not recommend them as a replacement for necessary medical treatment. Please seek professional medical advice if so needed.