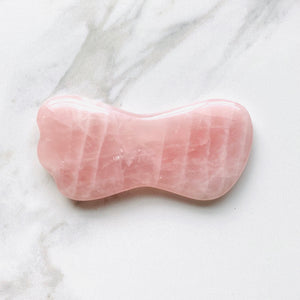 The Rose Quartz Gua Sha is a great tool to lift and contour the face.
Gus Sha have so many benefits to the skin and face. Not only do crystals have unique energy vibrational properties that are great for our health, well being and skin, they help to energise, balance and restore the mind and body. The Gua Sha helps the lymphatic system to remove toxins from the body and the cooling sensation against the skin can help with puffiness, especially around the eyes.
The Gua Sha can also be used on the chest to help relax the muscles that get tight from our modern day posture from being on computers, breastfeeding and holding children.
How To Use
Move the Gua Sha from the centre of the face towards your ears, or from the centre of your ribs near the sternum towards the shoulder. This aids the lymphatic system and the removal of toxins. The lymphatic system is quite sensitive so only requires a light pressure. 
The action of the Gua Sha increases blood cells and therefore oxygen to your skin, this in turn stimulates collagen production and cell rejuvenation. For this you can use a stronger pressure, but not so strong that it is uncomfortable. 
This Gua Sha also helps your skin absorb your creams and oils and helps to de-puff.
The crystal is naturally cool but if you like your roller to feel extra cool then keep in the fridge.
Working to enhance beauty rituals, this duo helps with the absorption of serums while improving blood circulation, reducing puffiness and inflammation, relieving facial tension and promoting lymphatic drainage.
All our stones are natural and therefore vary slightly in colour. Crystals are recommended for their energy vibration from their formation, we do not recommend them as a replacement for necessary medical treatment. Please seek professional medical advice if so needed.