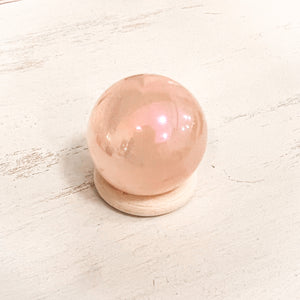 Crystal spheres are said to radiate their energy slowly, steadily and equally. These Spheres look beautiful in your home and feel amazing to hold in the palm of your hand.
When a crystal is bonded with a fine layer of vaporised platinum or gold through high heat treatment it creates a Rainbow Aura appearance. This combination not only looks beautiful but it also increases the crystals vibration making them gorgeous energy pieces to have around you. 


Rose Quartz Aura is bonded with Platinum.
LOVE ∙ COMPASSION ∙ UNDERSTANDING                                       
A beautiful calming stone that radiates love for yourself and others. Increases feelings of compassion for your path and others. The Aura brings joy and optimism radiating energy. 


Dimensions: 4.5cm