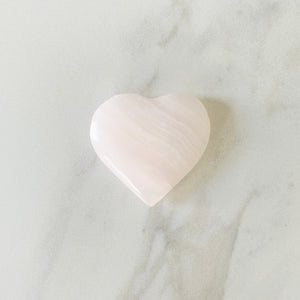 Perfect as a gift or just for you. These gorgeous hearts fit perfectly in the palm of your hand as well as looking beautiful in your home. 
Pink Calcite
LOVE • CLARITY • EMPATHY
A gentle energy that helps to bring to the surface suppressed emotions so that they can be processed and released, allowing for your heart to be more open for love and understanding. 
Dimensions: 4.5W x 4H
All our stones are natural and therefore vary slightly in colour.
Crystals are recommended for their energy vibration from their formation, we do not recommend them as a replacement for necessary medical treatment. Please seek professional medical advice if so needed.