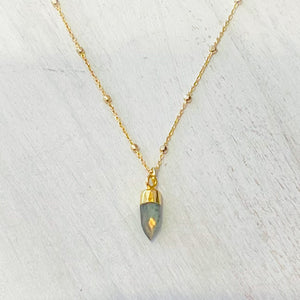 This gorgeous Labradorite point necklace sits beautifully on our faceted bead gold vermeil chain. 


Labradorite is a transformational stone, aiding during times of growth and transition. It helps us see the beauty in change and encourages creativity through darker times.
Crystal: Labradorite
Chain: 14k gold vermeil satellite (14k gold on sterling silver)
All our stones are natural and therefore vary slightly in colour.
Crystals are recommended for their energy vibration from their formation, we do not recommend them as a replacement for necessary medical treatment. Please seek professional medical advice if so needed.