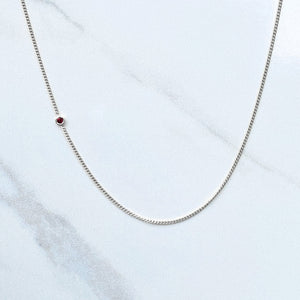 January's Birthstone is Garnet. This dark red crystal inspires love and passion, also bringing balance.
Metal: 925 Sterling Silver.
Crystal: Garnet 2mm
Length: 16"
Sizes
Our sizes are in circumference and UK size. If you are not sure of your size, take a piece of string and make a ring around your finger with the end. Mark where the end reaches, then measure against a tape measure in mm, that is the circumference.
Taking care of your jewellery
To keep your Soulstice jewellery lasting as long as possible avoid contact with water, perfumes and creams.
All our stones are natural and therefore vary slightly in colour.
Crystals are recommended for their energy vibration from their formation, we do not recommend them as a replacement for necessary medical treatment. Please seek professional medical advice if so needed.