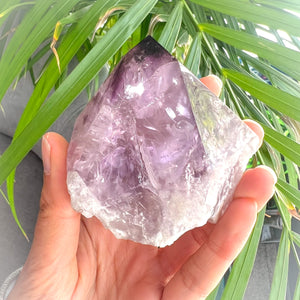 Crystal points are said to be powerful healing tools, with the energy radiating out of the point raising the vibration of the location that it stands in. A Rough Point differs from a Point in that the lower sides are more rough in texture, giving a more natural feel to the crystal. They are usually larger in size than a simple Point.
These Amethyst points look beautiful in your home. Having one on your bedside table is a wonderful sleep aid with it being said to bring a peaceful calm, helping to reduce stress, anxiety and insomnia.
Amethyst
Protective • Calming 
A grounding and protective stone, great for reducing anxiety and relieving stress. A perfect stone for by your bed used to for sleep and insomnia. 
 Dimensions: approx 7cm 
Sold as Seen
Our stones are natural and therefore vary slightly in size and colour. 
Crystals are recommended for their energy vibration from their formation, we do not recommend them as a replacement for necessary medical treatment. Please seek professional medical advice if so needed.